The Riverside handlebar harness, produced by Decathlon is a great option for cyclist looking for more storage space on their cross-country adventures.
After taking this harness on a few multi-day bikepacking trips I decided to write this review and guide. Sharing what I liked/did not like about this helpful piece of kit and the best practices for using it.
Let´s dive right in:
The Stats
Price: Approx 49.99 Euros/ 70$ / £42
Weight: 492g (17oz)
Dimensions: 40cm X 30cm (15.7" x 12")
Intended use: Bikepacking (suitable for almost every type of bike)
Connection: 2 straps to the handlebar, one to the headtube
Max Load: 8kgs
Max Volume: I tested up to 15L (on MTB)
Designed to work with the Riverside 15L Waterproof bag – click here
Guarantee: 1 year
The Pros
One of the most stable bike bags I have tested
Unbeatable value for money
Lots of options for adding extra accessories
Simple and quick setup
Can carry lots of weight and volume
Durable build
Designed to be used with the Riverside waterproof bag but could carry lots of different options such as tents.
The Cons
Heavier than some of its more expensive competitors
Fairly wide so might not fit smaller handlebars
The bottom strap design could be better
No way to lock the harness onto the bike
Who Should Buy The Riverside Bikepacking Handlebar Harness
Although this claims to be a "bikepacking" harness Those looking for a way to safely carry belongings from A to B on their bike could benefit from buying this harness.
One of the great things about the harness is how easily it can be added or removed from your bike. This makes it more versatile than pannier racks which are attached with tools and are harder to store when removed from the bike.
Here are some profiles of cyclists who might enjoy using the Riverside harness:
Bikepackers
First and foremost, this harness gives backpackers up to 15L of additional storage in which to carry their belongings and equipment. As it can handle more weight than large saddle bags or frame bags, it´s a great place to store bulkier equipment such as tents, electronic items, or tightly packed clothes. Especially when used with a waterproof bag.
Commuters
Those who love to use their bike for social rides but also commute to work will enjoy the versatility of this harness. Unlike pannier racks, it is easy to put on, remove, and pack into a small space. It also keeps laptops and other expensive away from the muck and dirt thrown up by the rear wheel during rainy pedals to work.
Long-distance cyclists
For those who like to go out on long rides. The harness allows you to store a variety of clothing and snacks, whilst keeping everything close you your bars, making them easy to access without stopping.
Full-suspension riders
Bikepacking, commuting, or long-distance cycling on a full-suspension bike can be a little difficult as panniers do not fit on the bike (specialist options are available) and large saddlebags can buzz on your tire when the suspension is compressed. The handlebar-mounted system solves this issue and keeps the front bag high enough to clear the front wheel, even when the front suspension is fully compressed
Who Shouldn't Buy The Riverside Bikepacking Harness?
Cyclists who enjoy minimalist, retro, or ultralight designs will prefer other options.
In my opinion, this is very much a utility harness. There are more beautiful ways to cycle with your belongings. Brands such as Brooks make much more sleek bikepacking equipment with high-quality leather and fashionable designs for a higher price tag.
Other bike-packing specialists such as Toppeak and Ortlieb also produce much lighter options but yet again at higher price tags. Cyclists looking to save grams not money will probably prefer such options.
Riverside Bikepacking Handlebar Harness – The Features
Here is a breakdown of the features that you will find on this harness and why they are useful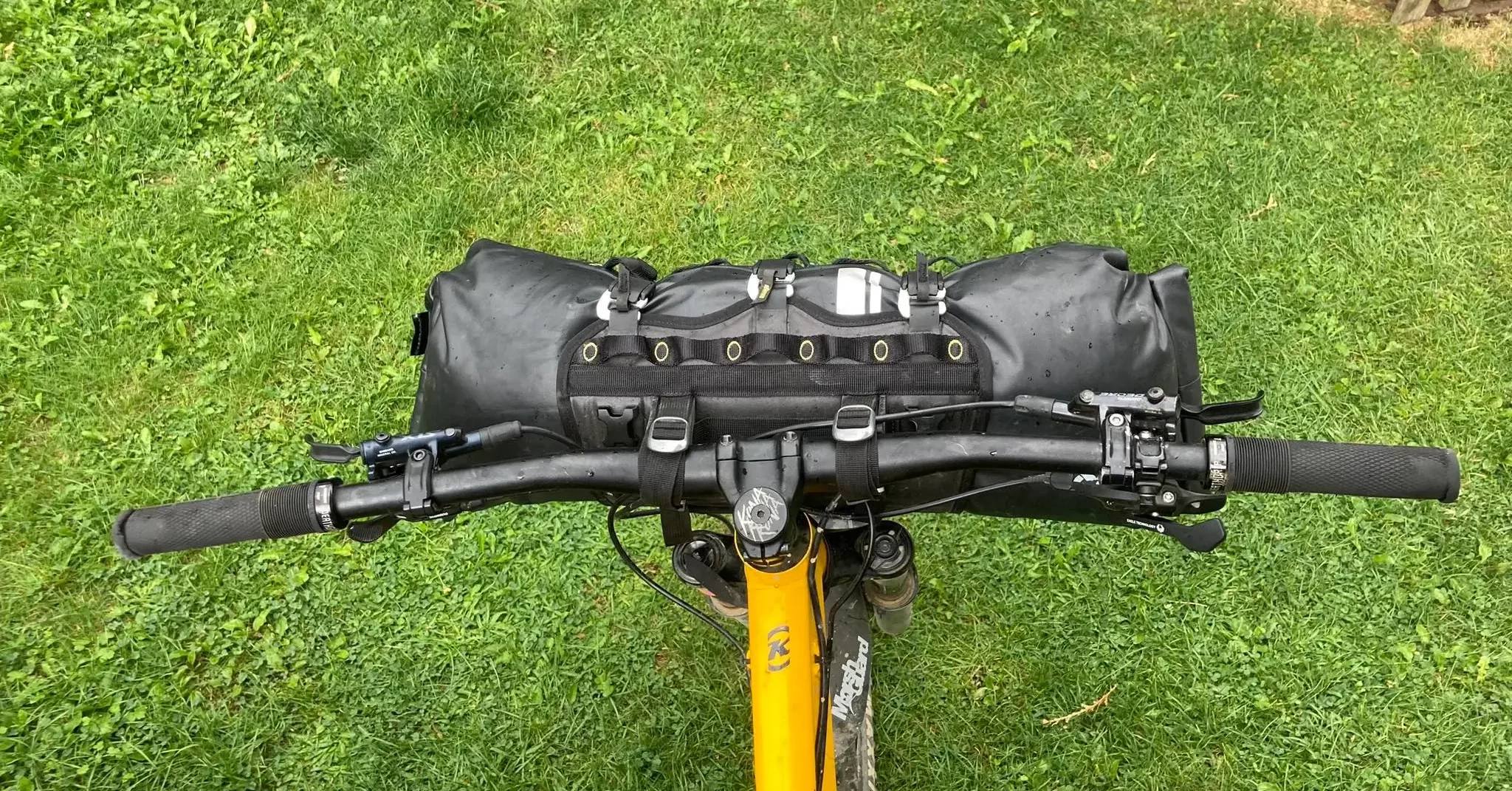 Stable 3-point connection
The harness is held onto the handlebars with 2 thick fabric flat straps that double loop around the bars. These 2 straps hold the weight of the carried load and provide left-to-right stability. The harness is held slightly away from the bars by molded silicone spacers which compress as the straps are tightened. This gives extra security and protection from scratching.
A 3rd strap loops around the headtube of the frame to stop the load from bouncing up and down when going over rough ground. When well tightened this strap can affect the steering. It's best to leave it a little loose, especially if only using the harness for road cycling.
Durable Build
You will notice as soon as you unbox this harness that it is built to last. The thick double stitching, metal fasteners, and tough materials give a sense of quality that will stand up to some serious abuse.
I have taken this harness and bag over many a mountain and down many singletracks with no signs of wear and tear.
Extra Loops And Hangers
There are extra loops and hanging points around the harness, and even some clips to connect other Riverside equipment. These loops are also built tough.
On some of my adventures with the harness, these extra connection points came in useful for strapping on, loose jackets, innertubes, and even sleeping bags.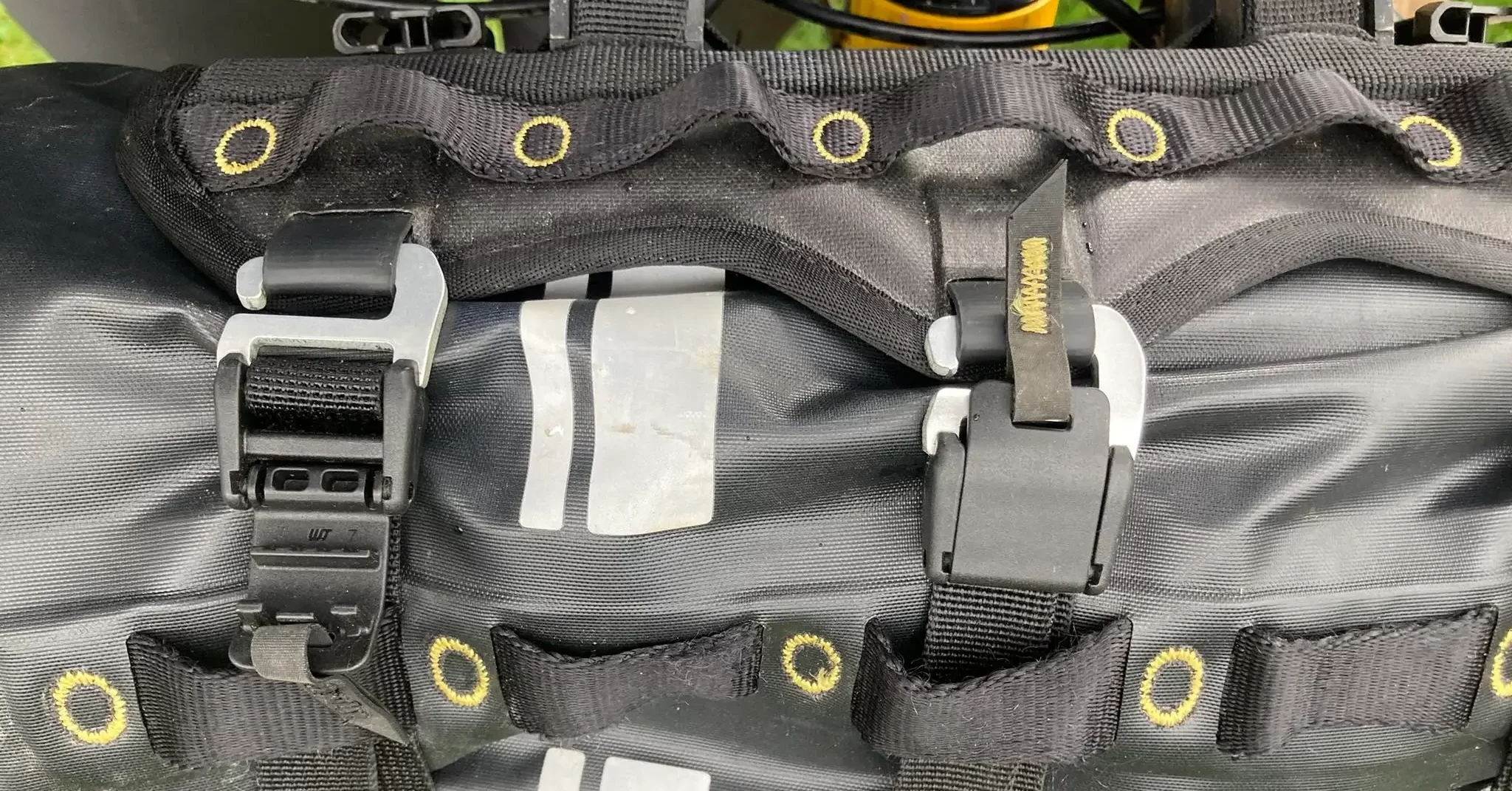 Adjustable Luggage Straps
The loading bay of the harness is fitted with 3 adjustable loading straps, with sliding aluminium connectors. These straps give a tight and even hold on your luggage and don't come loose, even when put through their paces. This is helped by the locking mechanism on the buckles which clamp down on the straps once you have reached your desired tension.
The sliding-to-release buckles are another useful addition. They allow you to quickly release your luggage from the harness at your destination.
The 15L waterproof bag designed for this harness is fitted with loops. These are specially designed to work with the 3 straps making it impossible for your load to slip out the side of the harness during a ride.
Compatibility
Although designed to fit with the Riverside 15L waterproof bag, it is compatible with any cylindrical bag or load. This is useful as the compatible bag is fairly heavy and other brands of waterproof bags are much lighter (although don't come with the security loops)
I have also successfully carried tent bags, sleeping bags, and even backpacks in this harness.
My Experience With The Riverside Handlebar Harness By Decathlon
Over the past 8 months, I have taken this harness and bag on many adventures on both dirt and road, with both drop and normal handlebars. I have been consistently impressed by the weight that it can hold and its stability, even in the roughest most challenging terrain.
Handling
One of the most testing adventures for this harness and bag was a 4-day mountain biking trip on the Italian Alta Via hiking trail on my Kona Process 154. The route included lots of pushing up technical ascents, and difficult,  rocky 1000m singletrack descents, even with rock drop-offs of around 4 feet.
The harness held up like an absolute boss, even with a huge over-the-bar crash.
For this trip, I packed my Forclaz 2-man tent into the compatible Riverside waterproof bag. The total bag and tent weight came in at around 3kg. Having this weight on the bars had a pretty huge effect on the handling of the bike. I had to add air pressure to my forks to accommodate.
When heading in a straight line through rock gardens and over roots, the bike tracked well with little bounce from the harness/bag, so much so that I sometimes forgot it was there. The handling issue came when making tight corners or having to lift the nose of the bike over obstacles. I noticed that during corners the bike would continue to turn with the extra weight forcing the front wheel round. After a few hours, I did get used to this although I did have to be wary, breaking early for corners and being very conscious of sections.
This would not be an issue on a road or gravel bike where the steering is less precise and the terrain is usually a bit softer.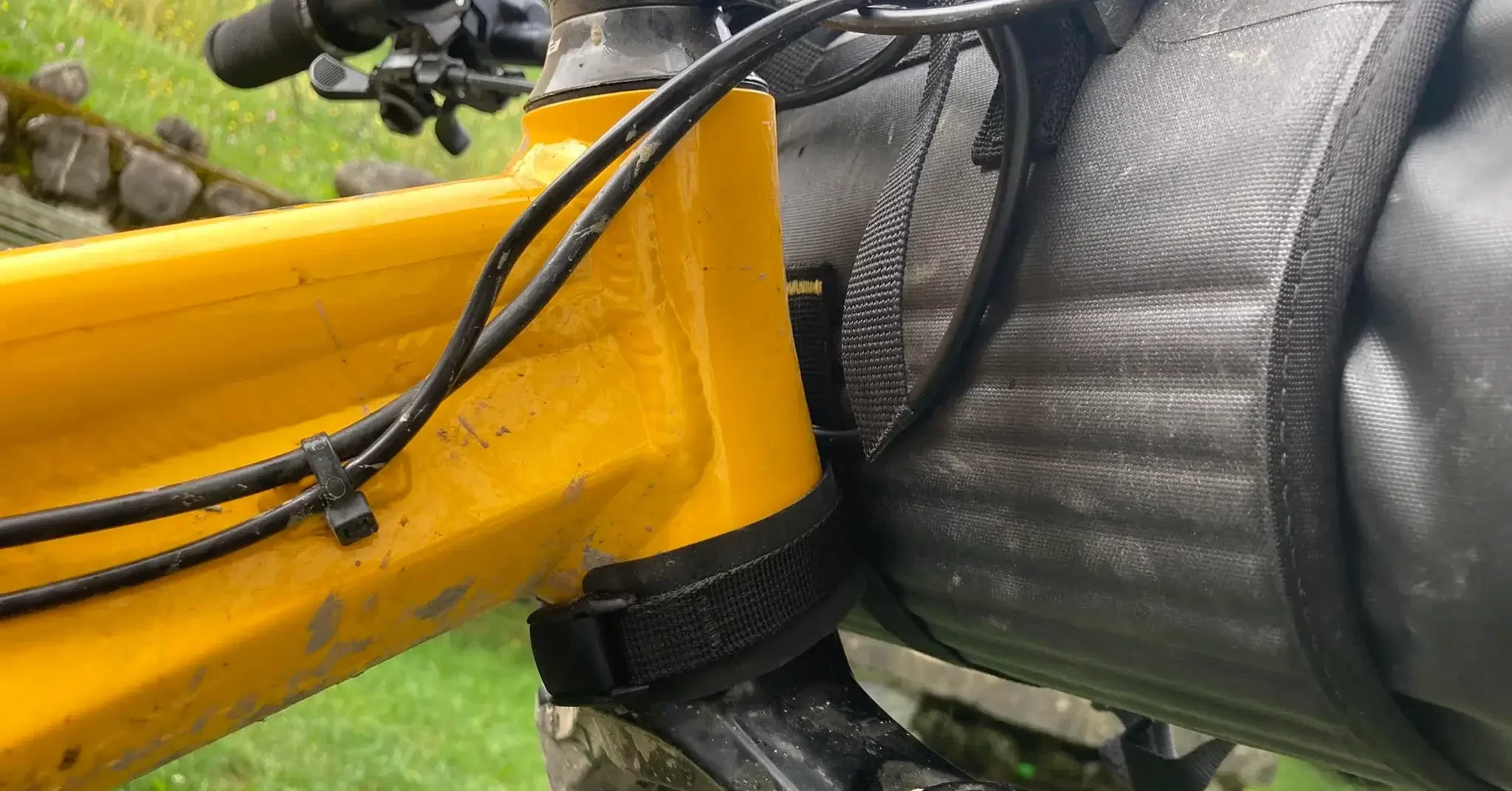 Ease Of Use
I found the harness easy to use and loved that you can remove the load whilst keeping the harness attached.
The setup of the harness is also very simple and can be fitted in less than 3 minutes. Once set up it might take one or 2 adjustments to get everything dialed in but these adjustments are easily made with the 3 simple connecting straps. These metal buckles allow you to confidently tighten the straps without flexing or fear of snapping them.
The lower head tube strap isn't the best design. If tightened it will affect the steering of the bike, making you feel like your headset is too tight. But you can back this off slightly just to catch the bag from bouncing. The top 2 handlebar straps handle 90% of the work.
After a rougher adventure, I noticed some markings on my headtube from the harness rubbing on the frame but you can fix this by putting on some tape or tying a little fabric around the headtube.
In this photo above, you will notice that I have tucked the cables behind the harness which worked well and did not affect the performance but those with longer cabling might want to run them out over the bag.
Best Uses
The Riverside Handlebar Harness can be attached easily to almost every bike but for maximum load carrying it is best suited to Mountain bike handlebars. This bar style allows the bag to be packed to its full limit of 15L. If packed too wide, the bag will start to sag at the sides.
When connected to road cycling bars (wide ergo type) I can fit around 10L of storage and maybe 12-13 if you are using gravel drop bars.
As discussed earlier in the article, this is a handy piece of kit for almost every type of riding.
Value
I have yet to find a piece of bikepacking equipment that is better value than the Riverside handlebar harness.
It easily competes with its much higher-priced competitors for practicality and durability. This is not a cheap entry-level buy like many of Decathlon's products. The harness and bag have obviously been designed and tested by riders who know what they are looking for.
Compatibility
The Riverside handlebar bikepacking harness is compatible with and has fitting to connect with:
The Riverside 3.5L Bikepacking Bag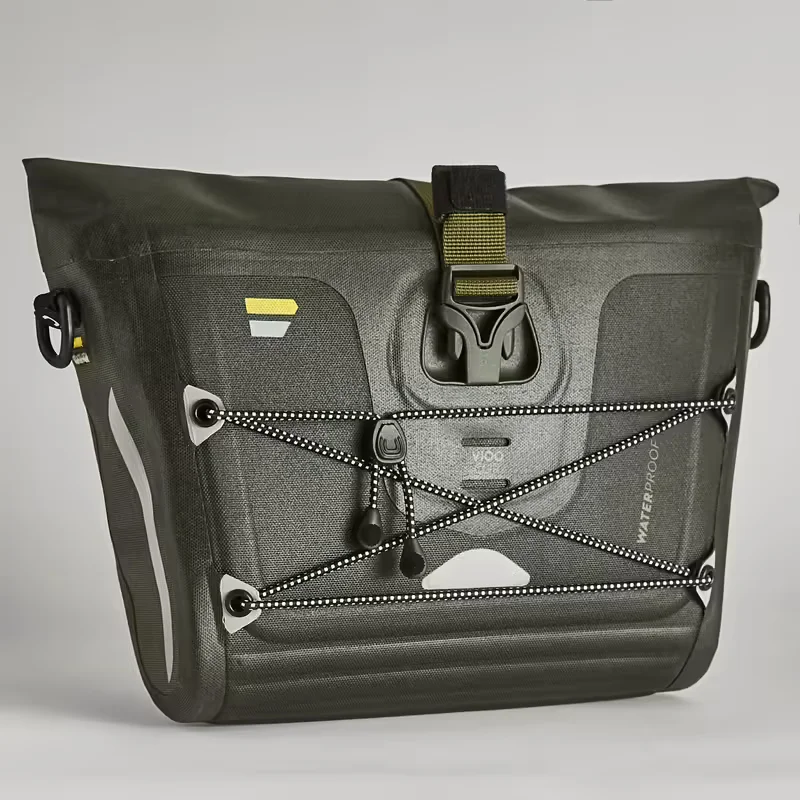 This handle little bag is great for personal valuables and laptops and has clips that connect to the handlebar harness on top of the loaded luggage. You can also connect it straight to your bars without the harness.
I have not tried this out but it looks like a great addition!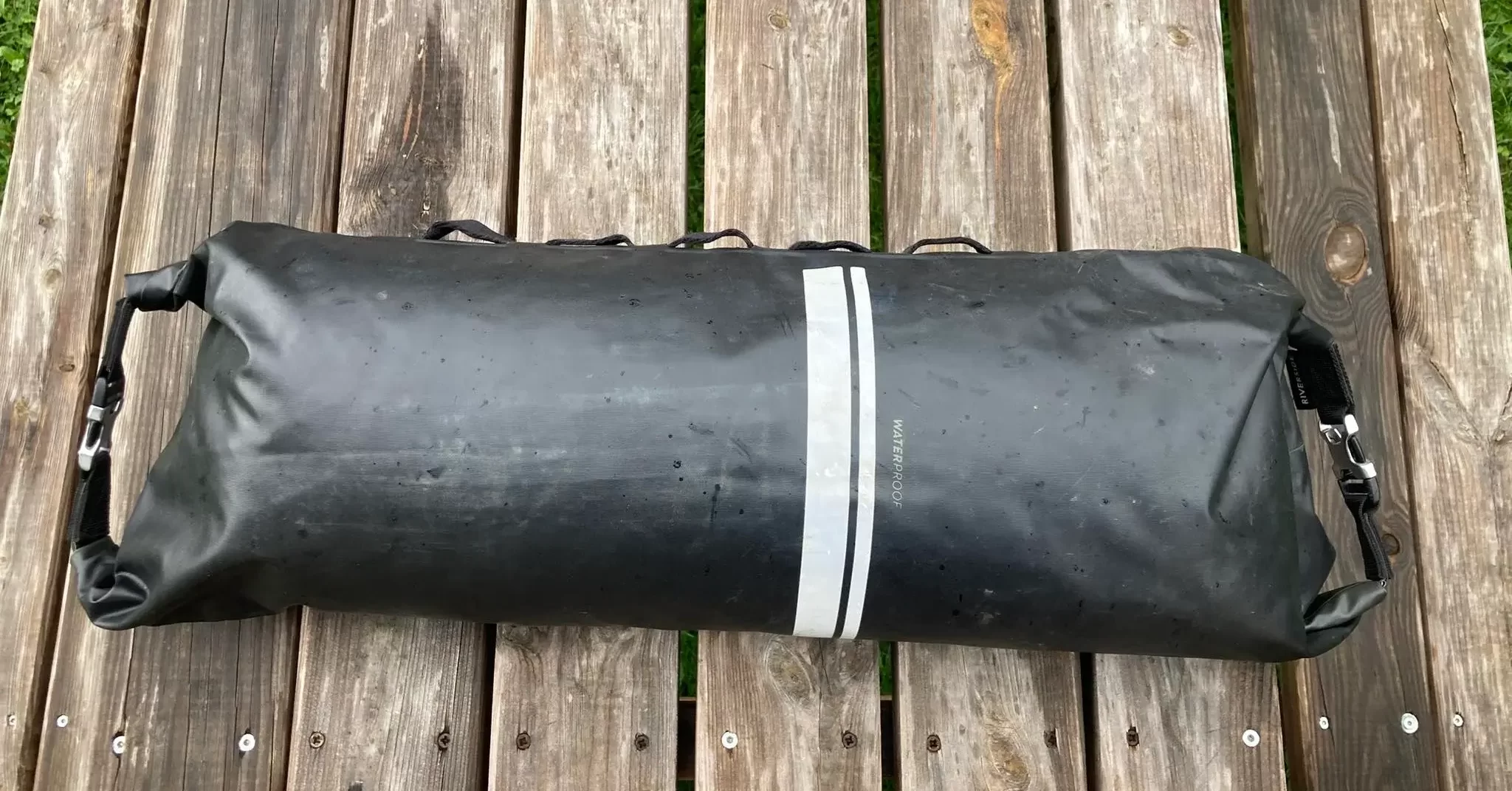 The Riverside 5-15L Waterproof Bag
As mentioned throughout the blog this bag is designed for the harness and has loops that meet the 3 straps. This gives some extra security when carrying heavy or uneven loads.
The bag is completely waterproof and has a durable covering.
You can access the bag from either side as both ends roll 3 times then secure with a metal buckle. This is handy for accessing different things in the bag without pulling everything out.
The only negatives to this simple bag are that it is heavier than some of its competitors and there is no valve to remove excess air. This would be a handy addition.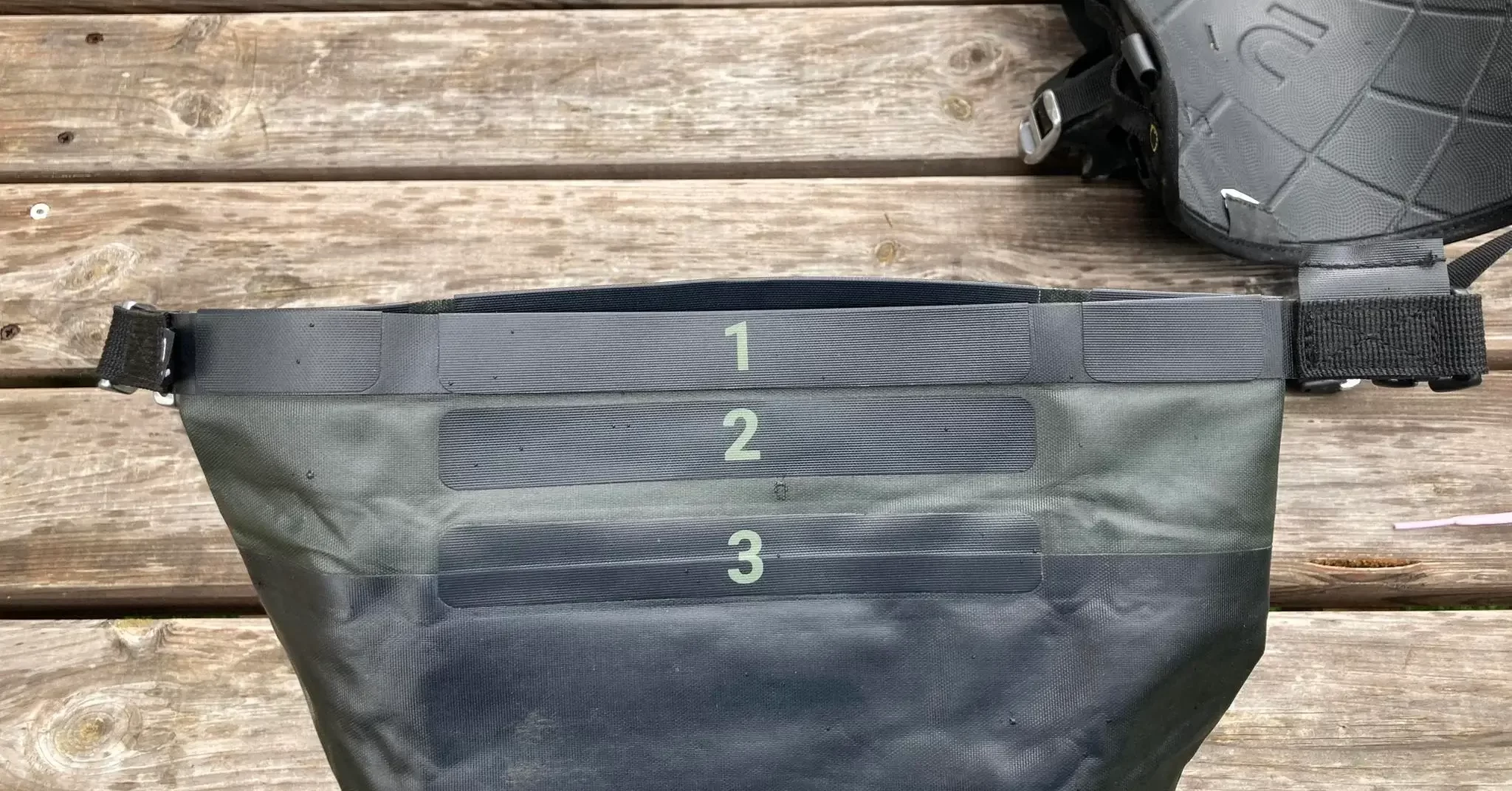 Thanks For Reading
If you have any questions about this harness or would like to know more about The Mountain Network please feel free to get in touch via our About Us page
Other Helpful Articles
If you enjoyed this article you will love these too!
Shimano AM9 SPD Shoe Review – 2023 Model – 6 MonthTest
Do Tents Stay Dry In The Rain?
Forclaz – MT500 – Fresh & Black – 2-Person Dome Tent – 1-Year Review