The Decathlon Evadict TR2 Trail Running Shoes are about as cheap and cheerful as you will find when looking for a pair of trail running shoes.
But with some great features such as mid-sole cushioning and multi-surface surface traction. Could this entry-level offering from Europe's biggest sports retailer be a great shoe?
I have been testing these budget trail runners for the past 6 months to find if they can stand up to the tough requirements of running and day hiking in the French Alps.
The results are surprising!
Let´s dive in…
Decathlon Evadict TR2 Trail Running Shoes – The Stats 
Price: 60 Euros, 65$, £51
Weight: 300g/ 10.5 Oz (Size EU42, U.S 9, UK 8)
Max Distance: 40km/ 25 miles
Traction lugs: 4mm
Max user weight: 90kgs/14.2 Stone
Sizing: True to size
Usage: Trail running, Day hiking, Daily use
Guarantee: 2 years
The Pros
Excellent Traction
Comfortable
Durable Construction
Protective
Secure Fit
Versatility
Affordable Price
The Cons 
Heavier than most
Quite firm for longer runs
No waterproofing
Not very breathable
Who Should Buy Evadict TR2 Trail Running Shoes? 
These shoes are designed for those looking to dip their feet into the world of trail running or for light/mid-frequency trail runners on a budget.
The outsoles of the trainers have smaller 4mm treads and a rubber designed for mixed terrain, this would be great for suburban runners who mix it up between tarmac and footpaths.
The Evadict TR2 trail running shoes would also be a great purchase for those looking for a general outdoor shoe. Allowing them to be comfortable when trail running, day hiking, walking the dog, or even some sports on grass or astroturf.
Who Should Look For Something Else?
Advanced or competitive trail runners.
Those looking to go further (+40km) over rough, loose, and wet terrain should look for something more specific. Decathlon has more advanced models of this trainer and there are many other specialists such as Salomon or Adidas Terrex with great trainers and a higher price tag.
The Technology And Features
The Evadict TR2 trail running shoes have a surprising amount of technology and features built-in given the price tag.
All of the features are Decathlon's technology. They do not construct shoes with well-known tech such as Vibram soles or boost cushioning as this pushes the price tag sky high. Instead, the company copies such features and makes them themselves. Functionally there is not much difference especially for new to intermediate runners.
This is a smart way to do things, but the label brand lovers and pro runners out there will always be prepared to pay extra to know they have the best out there.
Here are some of the features included: 
Cushioning
These trail runners are fitted with Decathlon´s CS® heel cushioning concept + PU PAD, exclusive KALENSOLE EVA foam. This cushioning also comes with an 8mm drop, meaning that the heel is 8mm higher than the ball of the foot.
Let's break this down:
CS® Heel Cushioning Concept: The CS® (Circular System) heel cushioning concept is a technology aimed at providing enhanced shock absorption and cushioning in the heel area of the shoe. It involves using specialized materials and design elements to reduce the impact forces experienced during running, particularly in the heel region. This helps to minimize discomfort and potential injuries caused by repetitive impact.
PU PAD: The PU PAD is another component of the heel cushioning system. PU stands for polyurethane, which is a versatile and durable material known for its cushioning properties. The PU PAD is strategically placed within the shoe's heel area to provide additional shock absorption, improving overall comfort and protection during trail running.
KALENSOLE EVA Foam: The KALENSOLE EVA foam is an exclusive foam material used in the midsole of the Evadict TR2 shoes. EVA stands for ethylene-vinyl acetate, which is a lightweight and flexible foam commonly used in athletic footwear. The KALENSOLE EVA foam is designed to offer a combination of cushioning, responsiveness, and durability. It aims to provide a comfortable and springy ride while maintaining the shoe's structural integrity over extended periods of use.
Flexibility
The Evadict TR2 is fitted with Flex-H technology. A design that offers flexibility, and support, particularly for outdoor activities like hiking and trekking.
This tech allows the shoes to flex and move with the natural motion of the foot while maintaining stability and support. The FLEX-H concept ensures that the products are versatile enough to handle different terrains and conditions.
Adaptability
These trail runners are built with Decathlons K-only technology. This means that whether you have a slight inward roll or experience more pronounced pronation, Decathlon's K-Only shoes are designed to accommodate your needs and help you enjoy a comfortable and balanced running experience.
Traction
These shoes have 4mm rubber studs on the sole and the rubber is made of a medium compound.
The studs offer grip on everything from loose soil to asphalt but are not designed for muddy ground where they can clog up.
The rubber compound is ideal for all-around use as it will grip loose terrain but not wear out quickly when running or walking on the road.
Laces Stash Pockets
On the tongue of the shoes, there are some helpful stack pockets for your laces. These pockets are upside down facing and hold your tied laces in with an elastic band.
I have never seen this feature on any other shoes and found it really helpful. It not only looks cool but stops the laces from untying themselves or getting caught on twigs.
Decathlon Evadict TR2 Trail Running Shoes – 6-Month Review
Now that we know more about these trail runners, their capabilities, and their technology, let´s move on to my experience of using them for 6 months in some of the roughest terrains out there.
Buying a shoe at this price range, I didn't expect much. Normally I would look to spend at least 100 Euros (110$) but I´m open-minded and always looking for a bargain.
I have now hiked and run in these trainers around 2-3 times a week for 6 months and have been pleasantly surprised. I have probably clocked up around 350km (217 miles) and they are still going strong. There is some wear in the soles but no rips or damage to the material of the shoes.
Here's a bit more about my experience:
Comfort
When trying them on I was surprised by the comfort and cushioning. The shoes felt much more comfortable than my previous Adidas Terrex Agravic. The extra comfort did of course add weight and I felt that once wet, they would take a while to dry (this proved correct).
One of my biggest runs/hikes was up a local mountain called Nantaux. This was a 15km route with 1250m/4100ft of vertical ascent/descent, over a challenging, uneven, and rocky footpath. I was blown away by the fact that I completed the hike with absolutely no discomfort anywhere on my feet (my legs were smashed).
The trail runners kept me comfortable although my feet did sweat a bit due to lack of breathability.
Some of the comfort was due to the cushioning in the trainers and the casing of the shoes. The ample cushioning was great for the rugged and steep descent and the case of the shoes is fairly stiff which gave me a lot of confidence descending at speed.
Durability
In the photos above you will see the soles of the shoes brand new and after around 4 months of use. During this time I mostly used them for hikes but did a lot of dog walking and just day-to-day chores in them too.
You can see that there is still plenty of traction left. Under my current usage I would expect a year out of them before they lose their form and the sole is completely gone. At that point, I would prob still use them, but just downgrade them to mellow runs and walks.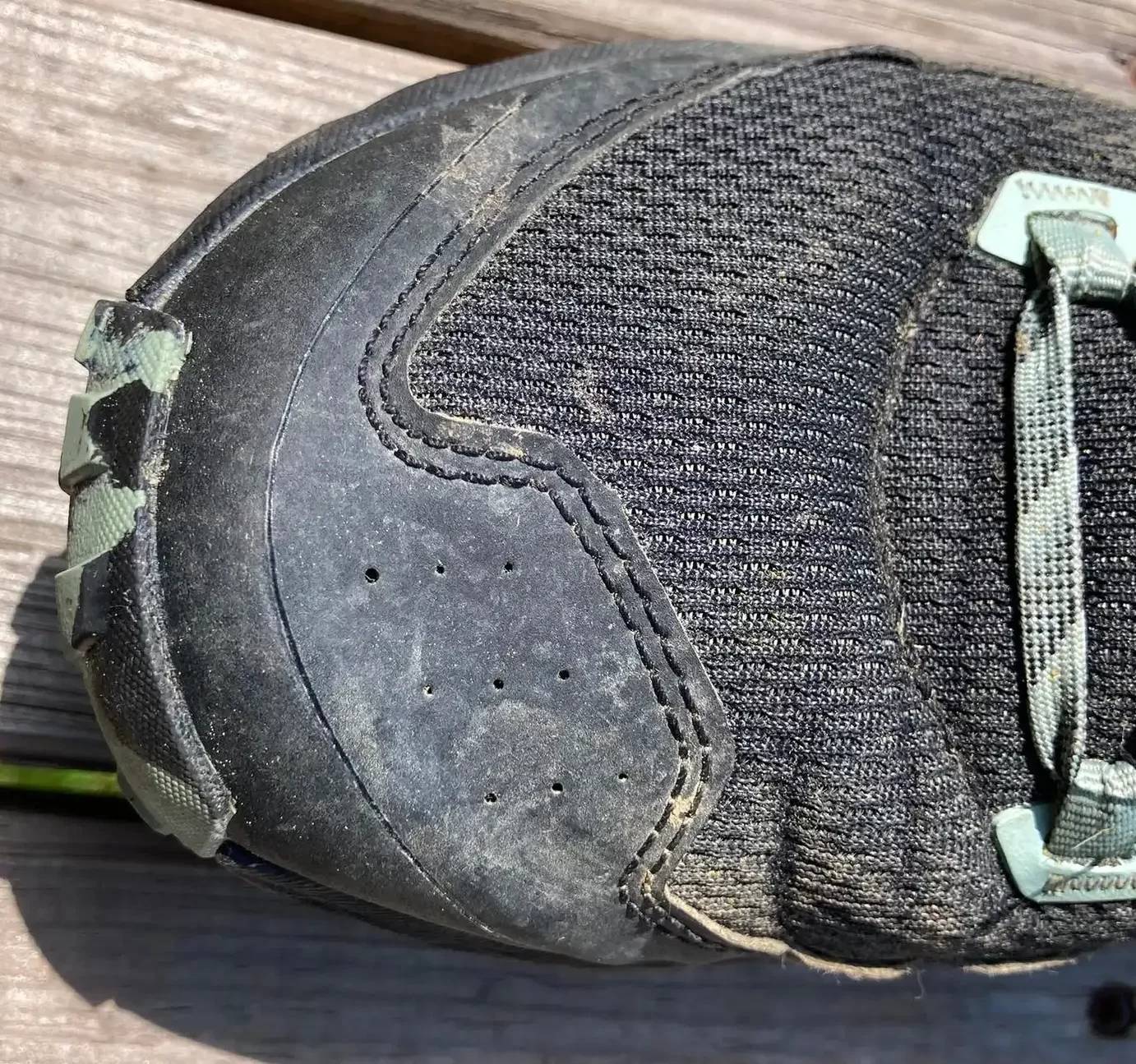 One of the things I loved about these shoes was the tough toe cap shown above. It felt really protective and is placed in a position that many sneakers wear first. Hats off to Decathlon for adding this feature
Traction
Although I have had shoes with more traction, these have been a great all-rounder. Providing reasonable levels of grip on footpaths, gravel tracks, and tarmac.
The only time when traction was an issue was on a muddy footpath. The studs are fairly close together and can clog up with mud giving you zero grip.
If you are constantly running in wet and slippy conditions, I would go for something with wider-spaced studs and a softer rubber compound.
Other Little Things
I loved the laces, they never undo themselves, even when wet!
Look wise I like the low-key black and turquoise with the matching soles and laces.
As with all-black shoes, they begin to look dirty very quickly.
Are Evadict TR2 Trail Running Shoes Good?
Yes, I would consider the Evadict TR2 Trail Running Shoes to be a good option for new to intermediate trail runners and people looking for an all-purpose outdoor shoe.
With their durable construction, all-around traction, and secure fit. The Evadict TR2 shoes are designed to withstand the challenges of trail running and even day hiking. Plus, they come at an affordable price, making them a great choice for those looking for quality trail running shoes without breaking the bank.
Where they seriously lack is in their waterproofing and breathability. But for a trail running shoe of this price, you can´t have everything.
Other Helpful Articles
If you found this article helpful you will love these too!
Forclaz MT500, Inflatable Backpacking Travel Pillow – Reviewed
Is Decathlon's Forclaz a Good Brand? (Explained)
Forclaz MT500 Air Trekking Mattress Review – With Photos