Could this budget-friendly, camping mat be the answer for campers looking for the holy grail of comfort/weight/price?
After owning and using this camping mat for over 9 months and countless nights of sleep, we have decided to give you a full rundown of this simple yet effective camping mattress.
Let´s dive in…
Forclaz MT500 Air Trekking Mattress – The Stats
Weight: 510g (with bag)
R-Value: 1.5 (Ideal for temperatures above 8°C (46F)
Size packed: 1.7L – 25cm Long/ 10cm Wide
Size inflated: 180x52x 5cm
What We Loved
Lightweight
Easy to pack
Comfortable
Easy to inflate/deflate
Stayed inflated all night
Comes with 1 puncture repair patch
What We Didn´t Like
No grip on the bottom of the pad
Inflating And Deflating The Forclaz MT500 Air Trekking Mattress
One of my favorite things about this camping mat was the ease of inflation/deflation and packing away.
Inflation
Once you have taken the mat from the bag and rolled it out, there are 2, well-labeled valves (see photo).
These valves hold the air by rubber seals on the valve caps. If they are not fully closed the trekking pad will leak air.
Decathlon being the smart cookies that they are have put these on the bottom of the mattress so should be held closed by your weight, they are also at the head side of the pad so you should hear any leaks.
To inflate, simply ensure that the OUT valve is fully closed and breathe into the IN valve. This valve has a non-return feature, meaning that the air that you put in will stay inside the pad and not rush back at you between breaths.
I found the most comfortable pressure was forcing the last breath in a little but not trying too hard. If your face starts to go red you are trying too hard.
It takes around 10 +/- good breaths to inflate the mattress to a comfortable pressure.
The whole inflation process from bag to ready took me 48 seconds – So Quick!
Do not use a pump for this as you can damage the mattress
Always clean the mouthpiece before and after use. The bacteria once left for a while can make you sick.
Deflation
To deflate, simply leave the IN valve closed and open the OUT valve.
Once the air has been let out, roll the mat up to remove the excess air and close the OUT valve.
Once deflated, fold the mat in half then half again, roll it up, and put it in the helpful bag.
The deflating and packing process takes around 2.5 minutes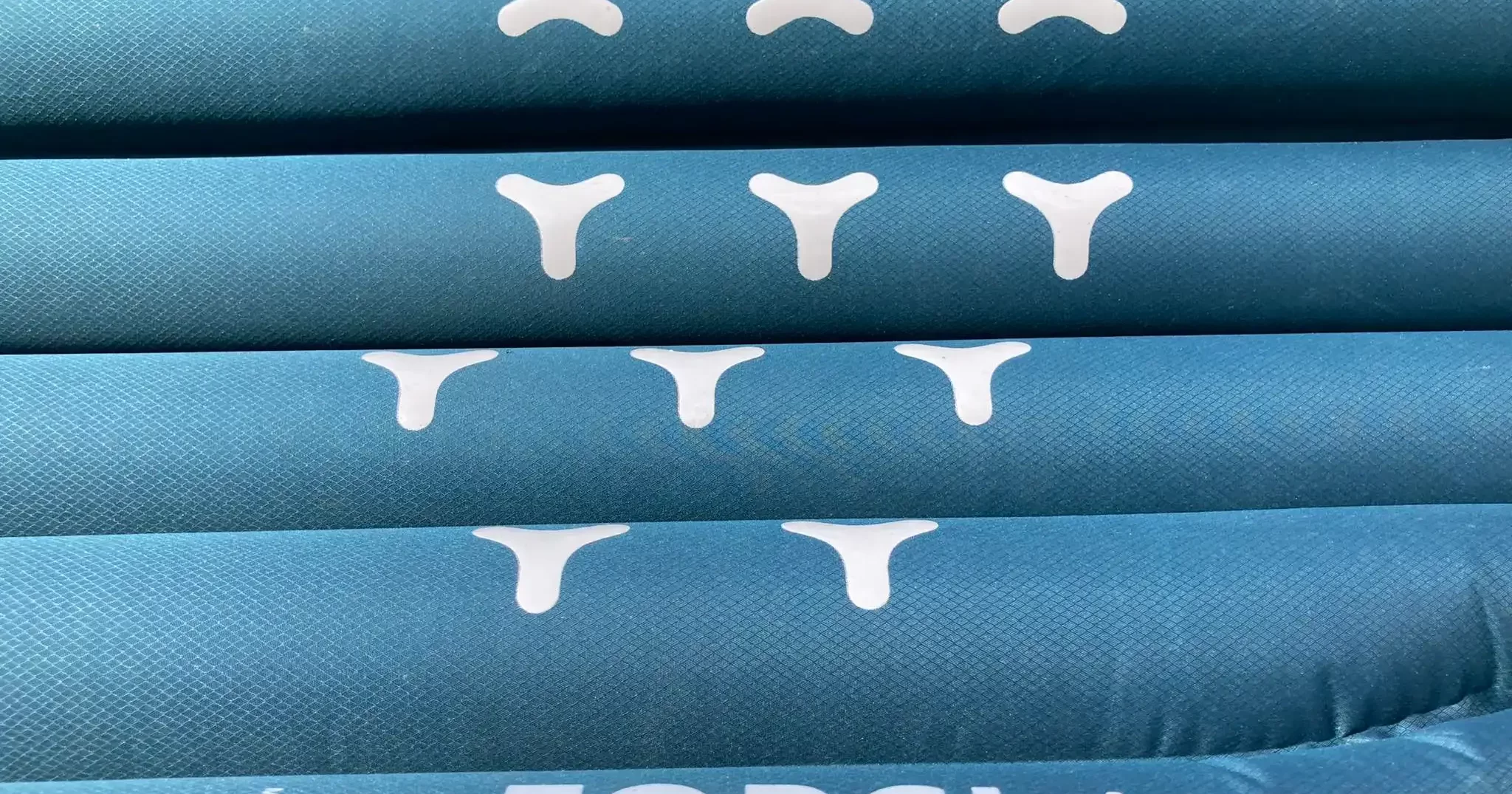 Comfort
I have found the Forclaz MT500 air trekking mattress to be comfortable in a variety of terrain and temperatures.
At 5cm thick, this camping pad is built for lightweight adventures and is not going to give you the same comfort as your mattress at home, but honestly, I have been pretty amazed by the quality of my sleep, night after night.
As a mixed sleeper I was more comfortable whilst flat on my back but didn't mind side sleeping either.
Many of the bad reviews on Decathlon's website likely came from entry-level campers who are not used to the delights of a night under the stars and the sacrifices we must make for comfort.
Gaining more comfort would mean massively increasing weight and bulk, this would be the same for any camping mattress.
I have used this mattress to great success on gravel, grass, and even tarmac with no difference in the quality of sleep comfort.
Comfort downsides
The only comfort downside that we found with this mattress was that it tended to slip and move around when used in a tent.
Due to the lack of silicone (as seen on the top of the mattress) it tends to move on the groundsheet of the tent, especially if you are on a slight hill. I solved this issue by putting a towel or some clothes under the matt which kept it still. If you are camping outside straight to the ground, this is not an issue.
The so on the top of the matt does work a little but doesn´t cover your legs, so they tend to slip off too.
Comfort Temperature
With an R-rating of 1.5, this mat is designed for use in temps of 8°C (46F) and above. Depending on where you live that would fall in the 3/2 season category but would be way too cold for winter use.
I spent 2 nights at altitude in spring with the mat and the overnight temp came down to 4°C (39.2F). I was in a comfort 5°C (41F) / limit 0°C (32F) sleeping bag with some base layers on and still had a great night of sleep.
This temp, I feel would be the limit of the mattress, even with a better sleeping bag.
Size
With an inflated dimension of 180x52x 5cm, this mattress should be a great fit for most adults. Forclaz did a great job in sizing it in the right places, making it wider at the shoulders, and saving weight and bulk by thinning it out at the legs.
I am 5 foot 9 inches (175cm) tall and weigh approx 88kgs. I have wider-than-average shoulders but still found this mat to be a good size.
For taller campers, or those on the bigger end of the spectrum there is a slightly heavier XL option but I feel like this size should suit most.
There is even a half pad option for those looking to half the weight and don't mind their legs sitting on the ground. But for the extra few hundred grams, the size L is the best choice, in my opinion.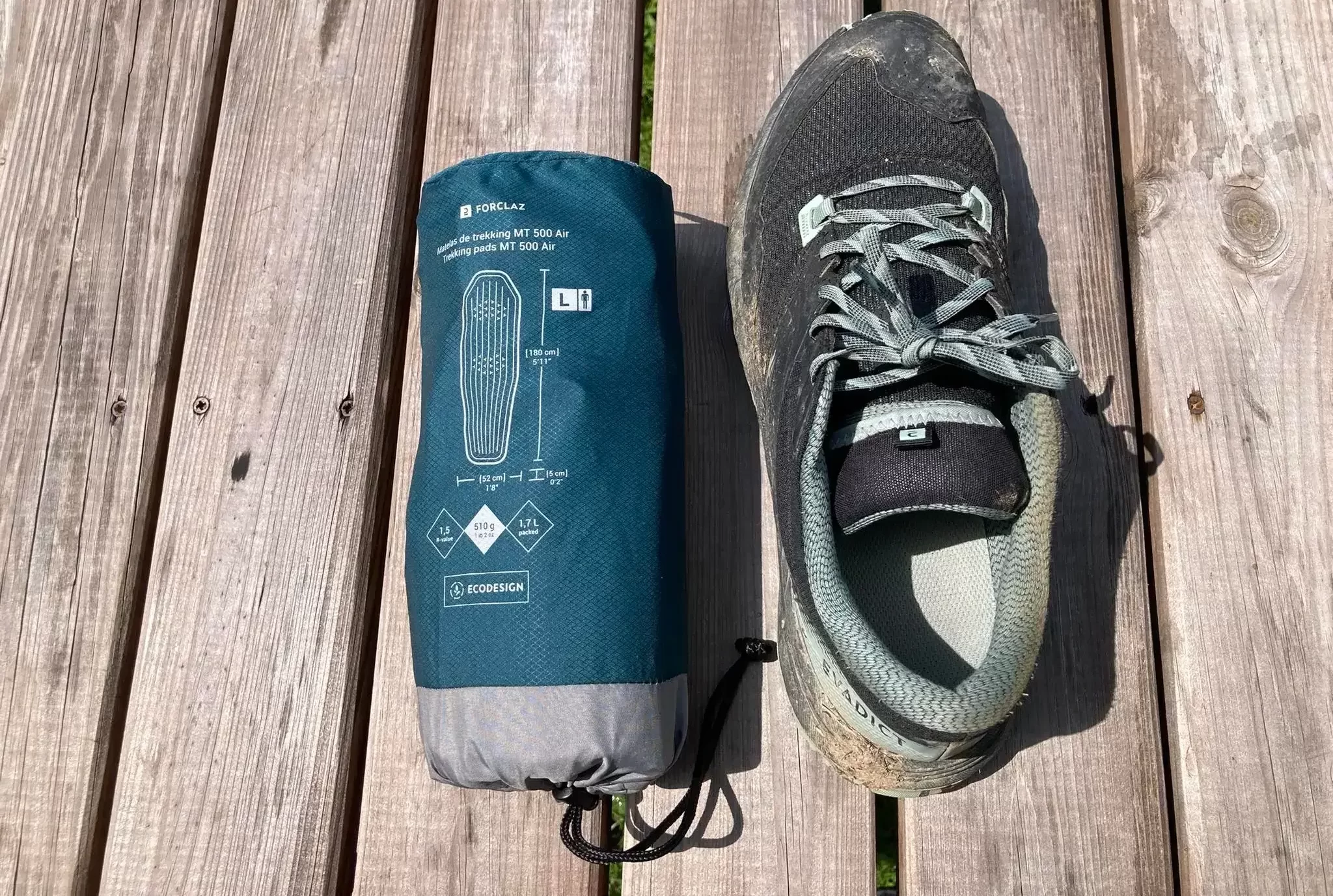 Packability
The photo above shows the packed mattress next to a U.S size 12 (EU 43)  shoe
All packed up the bag measures – a volume of 1.7L and a size 25cm Long/ 10cm diameter with a weight of 510 grams.
I have found that this packs into your bag nicely and doesn't add too much size or weight. It is just as light and small as many of its much more expensive competitors, such as Sea To Summits – Ether Light XT Air Sleeping Mat which is more than double the price!
On a recent bikepacking trip I wrapped the mattress into the groundsheet of the tent which saved a lot of space.
Durability
At the time of writing my Forclaz MT500 Air Trekking Mattress has been used for 2o nights of camping on a variety of terrains with no punctures or any visible damage.
It is made from fairly durable material but must be treated with respect as a puncture can lead to a very uncomfortable night of sleep.
Luckily Forclaz has included 1 puncture repair patch, attached to the bag which will come in handy for most punctures. I recommend buying another kit from Decathlon along with the mattress and carrying a few extra patches.
If you have not inflated your mattress in a while, it´s good practice to fully inflate it before you leave on your camping trip to ensure everything is working.
Value
As with most things Decathlon and Forclaz, The value is pretty outstanding for the quality of the product.
Forclaz MT500 Air Trekking Mattress easily competes with its more expensive competitors when it comes to:
Price
Weight
Durability
Size
In my opinion, this camping pad far outperforms anything else available in this price range.
Conclusion
the Forclaz MT500 Air Trekking Mattress from Decathlon's Forclaz sub-brand is a budget-friendly camping mat that offers a great balance of comfort, weight, and price.
It's easy to inflate, deflate, and pack away, providing a no-fuss camping experience.
Despite its lightweight design, it offers surprising comfort for a variety of terrains and temperatures, and while it may slip inside a tent, this can be easily resolved.
With excellent durability and exceptional value, this mattress outperforms others in its price range. It's a recommended choice for campers seeking a reliable and affordable camping pad.
Other Helpful Articles
If you found this article helpful you will love these too!
5 Common Camping Mat Fails! – Are You Guilty?
Is Decathlon's Forclaz a Good Brand? (Explained)
The Hiking Food Showdown! Sandwiches vs Wraps!